Home Nursing & Mobility
LOCAL AND COUNTYWIDE SALES, SERVICE AND REPAIR
Stranraer Mobility offers a wide range of
solutions including wheelchairs, new & used
scooters, scooter rental, service & repair and
so much more.
Our Shop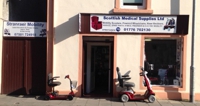 We can Supply, Service and Repair Mobility Scooters and Powered Wheelchairs from all of the well known suppliers, with Kymco being our best seller, alongside, Mobility, Electric Mobility, Roma, Drive and TGA.
TGA, in our opinion, provide the best Power Pack on the market, and we supply, fit and provide after care to Community, private individuals and Charities who purchase these add ons.
If there is anything that is urgently required, we aim to supply as soon as next day, where possible, and usually within 3 days otherwise.
We operate within the County of Wigtownshire, and are more than happy to arrange visits to suit.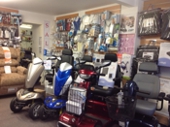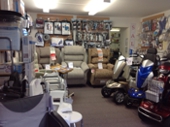 The Stranraer shop, whilst compact, stocks a wide range of Daily Living Aids – Grabbers, Pill Boxes, Reachers, Walking Trolleys, Over bed Tables, Sock and Stocking Aids, Feeding and Drinking Cups, and Cutlery, alongside the Powered Scooters, wheelchairs, Walking Aids, Crutches and Rollators. There are also in stock, a small selection of Slippers for extremely swollen /bandaged feet, and the usual Waterproof Clothing for Scooters and Wheelchairs, alongside Comfort Cushions. Lorraine is more than happy to provide help and advice on any possible purchase, having a wealth of personal and professional knowledge of products and their value in the home or care setting.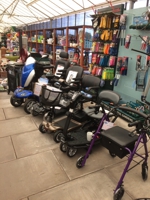 The shop has a good range of Toilet Frames, Raised Toilet Seats, and Commodes, as well as Shower Stools, Bath lifts and Grab Rails. Added to that there are Continence Pants, Bed Pads, Disposable and Washable, Urine bottles, from Community approved suppliers such as Kylie, Drytex, Lille, Vernacare, Senset and iD.
A small display of scooters and walking aids can also be seen at Soleburn Garden Centre, on the A718, towards Kirkcolm, on the road to Wig Bay, DG9 0PW.
We carry in stock, a few quick delivery good value Cosi riser/recliner chairs, and Fireside Chairs, and can order and supply, usually within 3-5 working days. Most of these chairs are British made, at reasonable prices, with Free Local Delivery.